Paragraph Pop is a pack of 25 description and paragraph titles & transitions for Final Cut Pro X. With 15 different handmade titles and 10 transitions, it's perfect for displaying large amounts of text in your video! Paragraph Pop is designed for 4K UHD, HD, square and vertical videos and lets you create product descriptions and display information elegantly!
General Workflow
Here's your game plan for using Paragraph Pop. Trust me, it's really easy!
Drag and drop your title or transition onto your timeline.
Add your own text.
Use the published parameters to customize the look of your description title.
Published Parameters
Each template comes with published parameters that make it easy for you to customize your title and transition. The Published Parameters are under the Title and Transition Inspector. All titles have similar published parameters however some templates may have different parameters based on the design. But don't worry, they're really easy to use.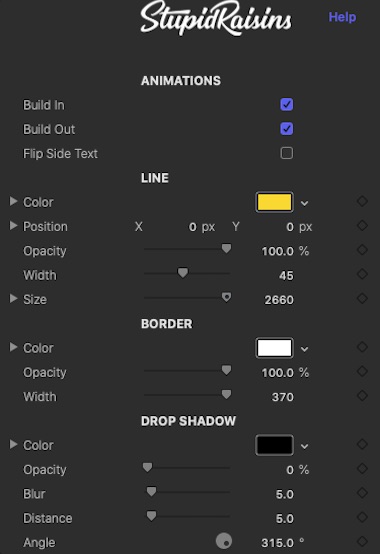 Animations
Use the build in and out checkboxes to turn the start and end animations on and off. You can disable each animation if you'd like the title to just appear instantly over your clip.
Use the Side pop-up menu to select which side you want the design to align to.
Template Specific Parameters
These parameters control how the animated template looks. You can change borders, lines, shapes, colors, opacities, positions and more depending on the template.
Drop Shadow
Use these to add and customize a drop shadow on the design.
Color
A color picker to change the drop shadow color.
Opacity
Brings up a slider to change the drop shadow opacity.
Blur
A slider to blur or sharpen the drop shadow.
Distance
Provides another handy slider, this one to change the drop shadow distance.
Angle
Used to change the drop shadow angle.