Type Pop is a modular pack of 16 typographic templates. It comes with 10 module titles, 3 backgrounds, 1 lower third, 1 main title and 1 transition. These themed templates are perfect for building a video with a consistent vibe and look. You can use the modules to build your perfect title sequences.
General Workflow
Here's your game plan for using Type Pop. Trust me, it's really easy!
Drag and drop your title onto your timeline.
Add your own text.
Use the published parameters to customize the look of your title.
Required Fonts
Published Parameters
Each template comes with published parameters that make it easy for you to customize your title.
The Published Parameters are under the Title Inspector.
All titles have similar published parameters however some templates may have different parameters based on the design.
But don't worry, they're really easy to use.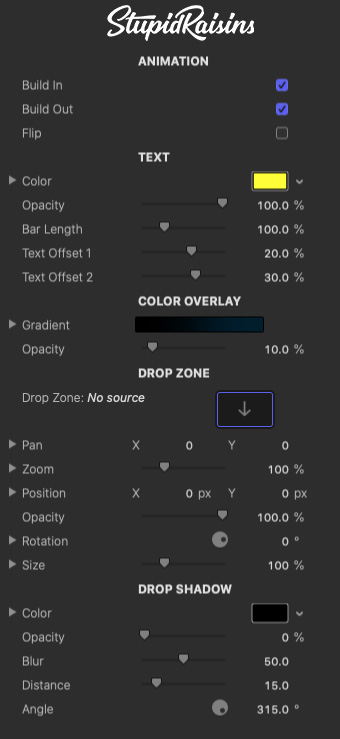 Animation
Use the build in and out checkboxes to turn the start and end animations on and off. You can disable each animation if you'd like the title to just appear instantly over your clip.
The Flip checkbox switches side alignment between left and right.
Color Overlay
Use this to change the color on top of the video.
Drop Zone
Use these to add your own picture or video to the device. You can also control the position, size and rotation.
Template Specific Parameters
These parameters control how the animated template looks. You can change reflections, backgrounds, borders, lines, shapes, colors, opacities, positions and more depending on the template.
Drop Shadow
Use these to add and customize a drop shadow on the design.
Color
A color picker to change the drop shadow color.
Opacity
Brings up a slider to change the drop shadow opacity.
Blur
A slider to blur or sharpen the drop shadow.
Distance
Provides another handy slider, this one to change the drop shadow distance.
Angle
Used to change the drop shadow angle.