Comic Pop is a collection of energetic hand-drawn comic book style animations designed for Final Cut Pro X.
Published Parameters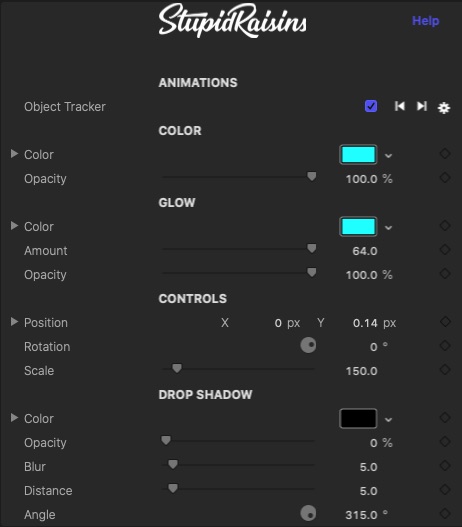 Animations
Use this to motion track. Use the square on-screen control to select what you want to track and then press the track forward button. Then use the blue on-screen control to offset the position, the stick to rotate and the ring to change the size.
Color
Use these controls to change the color of the animation. You can also change the opacity of the animation.
Glow
Each animation has a built in glow and you can change the color, glow amount and opacity.
Controls
These controls allow you to change the animation size, position and rotation. You can also make those changes with on screen controls in the canvas viewer. The changes made with the on screen controls will be reflected in the Inspector controls.
Drop Shadow
You may want to separate your animation from a background and Drop Shadow is a quick and easy way to do that. You can pick the color and set the opacity. You can change the Drop Shadow blur from hard to soft and you can move the shadow with the distance slider. Angle rotates the shadow around the animation.
Using Comic Pop
Adding animations to your project is easy. Just drag and drop your animation to your timeline. Line it up with your video, make adjustments and you're done!