Go bananas over Motion Pop's unique, whimsical and playful 181 animated motion presets! It's got in, out and through animations to add super quick motions, smooth looping animations and tons of personality to anything in your videos; images, clips, logos and cartoons - all without keyframing!
Motion Pop is absolutely perfect for beginners and advanced editors looking for extraordinary motion graphics to create logo animations, animate faces, cartoons and characters, make shapes and objects move, build complicated graphics, quick transitions and apply movement to products that would otherwise be static and boring.
Motion Pop's motion presets are designed to appeal to a wide range of viewers, businesses and topics. Yes, formal, mature, cute and fun topics are easier to understand and enjoyed more when you introduce Motion Pop into the mix.
Order yourself the most delicious serving of banana split you can find and happily savor it while using one of the easiest plugins you can use to animate in Final Cut Pro. You'll love Motion Pop for the one-of-a-kind action it brings to your projects that you'll be "peeling" so good while editing your videos.
No matter what industry you're in, Motion Pop will move and delightfully pop your story.
Best of all, Motion Pop was designed, animated and tested a bunch of times until it's ripe and ready for you.
If you're at your wit's end trying to find an (almost) limitless plugin for custom motion graphics, now's your chance to make your move with Motion Pop.
Do you want a really fun way to add super quick motion to your clips?
Motion Pop gets you there with its three types of animations. In animations make the graphics come in, out animations pull the graphics off-screen and through animations continuously move the graphics while onscreen.
Use Motion Pop for stunning logo reveals, extra visual flair in your corporate, explainer, training or product videos, spinning your drawings around, making images come alive and anytime movement is called for.
Whether you're starting as a newbie or have been at this for a while, Motion Pop has 181 presets (effects and titles) that flow smoothly with whatever video editing workflow you use.
With Motion Pop, you'll create worlds of fun with its growing, bouncing, elastic, rolling, jumping, spinning, flipping, flying, floating styles that'll have you bobbing your head as you edit with sheer delight!
Motion Pop's animation action enriches your videos, has your audience following every move on the screen and does the job you were hired to do --- make motion graphic videos that hook your viewers from start to finish.
All Motion Pop's 181 motion presets are designed for 4K UHD, HD, square and vertical videos and automatically adjust to fit regular, square and vertical videos.
For sure!
Motion Pop has customizable options to make your own motion graphics.
Motion Pop lets even the newest Final Cut Pro user create professional animations. Video editors like you can easily change animation direction and adjust the speed of effects and titles. Every "a-peeling" template you need and much, much more in one plugin.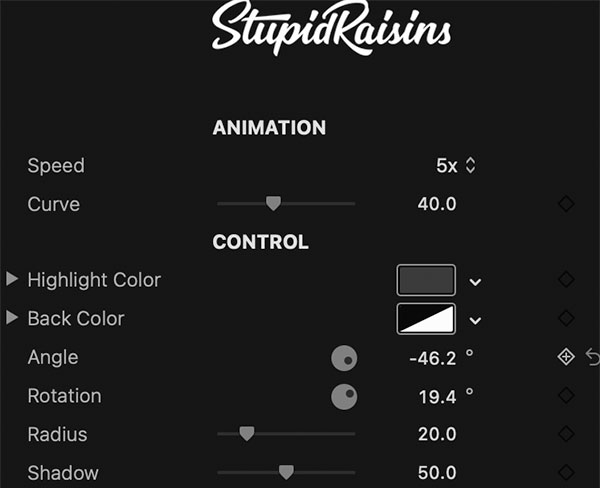 Yes!
The demo version is actually the full plugin and all Motion Pop templates can be used in your motion graphics videos, but they'll come with a watermark. And don't worry! If you're playing around with one of the templates and you decide to buy later, Stupid Raisins will automatically remove all of those watermarks, which means you won't lose any work!
Try it Free
User Guide
$49