Logo Pop, the symbol for your success...
You just finished a meeting with your client and she gave you a big job for her even bigger company, Glamazon. The production deal has been approved and she gives you all the creative materials you'll need to produce a series of commercials.
You shake hands, you leave and you get to work.
Come presentation day, you're a nervous wreck.
Big questions keep turning in your head. You ask yourself, "Will the Glamazonians love my commercials? What will they think of my artistic direction?" And most importantly, "Will she approve of the logo animations?"
Well, maybe you don't have the last thought, but you should.
A lot is riding on this job and you've got to get everything right, including Glamazons branding.
You're a tad nervous but you square your shoulders and bravely show the Glamazonians your reel.
You reach the end of your presentation and take your seat.
There's silence; minutes tick-tocking on your watch.
Then your client stands up and says, "That was amazing! I was blown away by how you took our boring static logo and brought it to life! So glamorous!"
Ok, so maybe she doesn't hand out an Oscar for your logo animation skills but it is important. It's little details like a moving icon that seal the deal.
Now, take a bow, and then, thank the lucky stars you have Logo Pop in your editing vanity kit!
Logo Pop gives you the power to create attractive, moving logos that will make your clients sit up, pay attention and spread the word about your amazing commercials
Logo Pop is a sneaky little ace up your sleeve because who'd think corporate branding and symbols can look super fly with such little effort?
With 60 fresh logo animations, you'll have so many choices and styles to revamp and glam up bland corporate symbols for your clients.
Logo Pop is fast, easy to use, works logo magic in just a few clicks, is designed for 4K UHD, HD, square and vertical videos and automatically adjusts to fit regular, square and vertical videos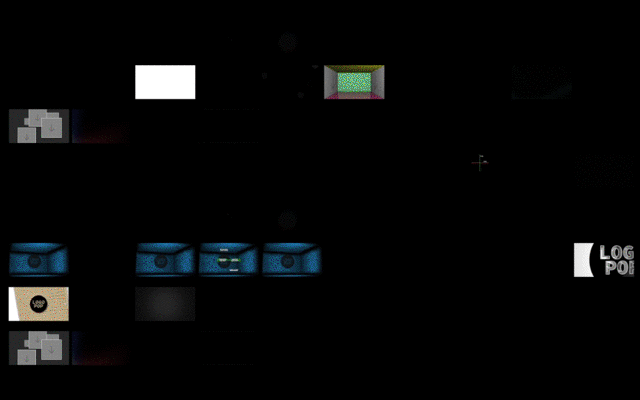 Create appealing and unforgettable logos with Logo Pop!
When you create logo animations with Logo Pop, you make a solid impression and express your purpose in visually spectacular ways!
Logo Pop helps you right out of the gate with logo animations covering food and beverage businesses, mom and pop shops, software and apps, salons and barbershops or any other business and industry you can think of!
For example, using Logo Pop means you help clients make a strong first impression on their pop-up store launch (that bright neon logo is unforgettable, like someone took a branding iron to my brain); identify who they are (the best Texas barbecue for tailgatin' is who? Us!); capture the attention of their customers and buyers (yes, it's the dancing logo y'all); and let would-be investors know they have a vibrant business (blue-chip company 24/7, baby).
Animate, create and style company insignias from an array of fresh and modern logo animation templates.
All this and more lead to professional-looking, stylish and superstar logos you can be proud to show off.
For sure! Logo Pop is chock-full of customizable options. Logo Pop lets even the newest Final Cut Pro user create memorable and hard-to-overlook logos in seconds flat.
With Logo Pop, you'll start off on the right foot with one of its 60 stunning templates. In just 3 simple steps you'll create truly gorgeous symbols. From there, you'll be able to fine-tune every aspect of your logos like colors, shapes, and much, much more.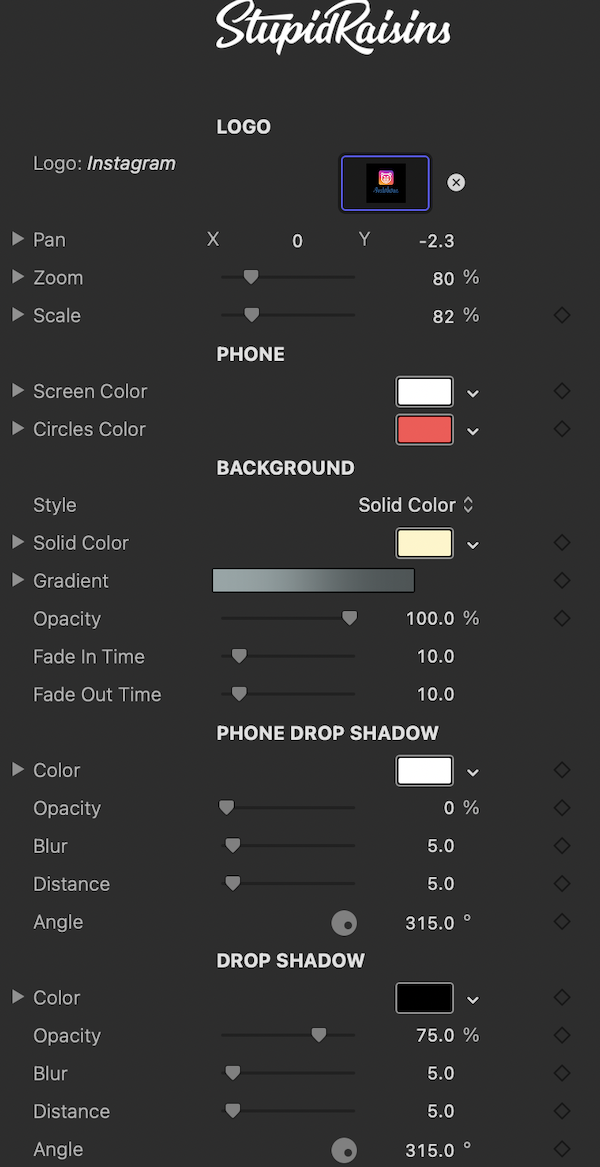 Yes! The demo version is actually the full plugin and all templates can be used in your videos, but they'll come with a watermark.
And don't worry! If you're playing around with one of the templates and you decide to buy later, Stupid Raisins will automatically remove all of those watermarks, which means you won't lose any work!