Split Pop is a Final Cut Pro split screen plugin and comes with 41 customizable split screen effects for Final Cut Pro X, perfect for creating animated splits with videos and photos.
Split Pop is the perfect solution for everyone out there looking for a fast and simple way to add animated splitscreen templates to any video without wasting precious hours and dollars.
Split Pop is designed for 4K UHD and HD videos and lets you make split-screens in a snap!
Use Split Pop to combine video and photos, show more than one clip at a time, transition from one video to another and make interesting titles and split screen transitions.
Split Pop's animated templates can be used in a variety of video types from travel, sports, wedding, cooking, business, commercials, real estate, music videos and just about anything else!
You can make next level music videos with Split Pop. Check out these two music videos made during the COVID-19 pandemic with a wide variety of self quarantined musicians.
Editor Mike Baugh used Split Pop to make this amazing music video with Hans Zimmer's violinist Rusanda Panfili. Mike told us that "It was quite popular and is currently in the semifinals of the International Folk Vision Awards!"
Nashville drummer Ryan Fowler used Split Pop to make this Coronavirus quarantine music video with fellow Nashville musicians covering Lady Antebellum's Downtown.
Ryan also put together a 15 minute tutorial on how to make a split screen music video with Split Pop.
For sure! Split Pop is chock-full of customizable options. Split Pop lets even the newest Final Cut Pro user create gorgeous split screens in seconds flat.
With Split Pop, you'll start strong with one of its 41 stunning templates that breaks up the screen into 1, 2, 3, 4, 5, 6 or 9 sections. From there, you'll be able to fine-tune every aspect of your splitscreen like size, line color, rotation, alignment, starting and ending animations, and much, much more.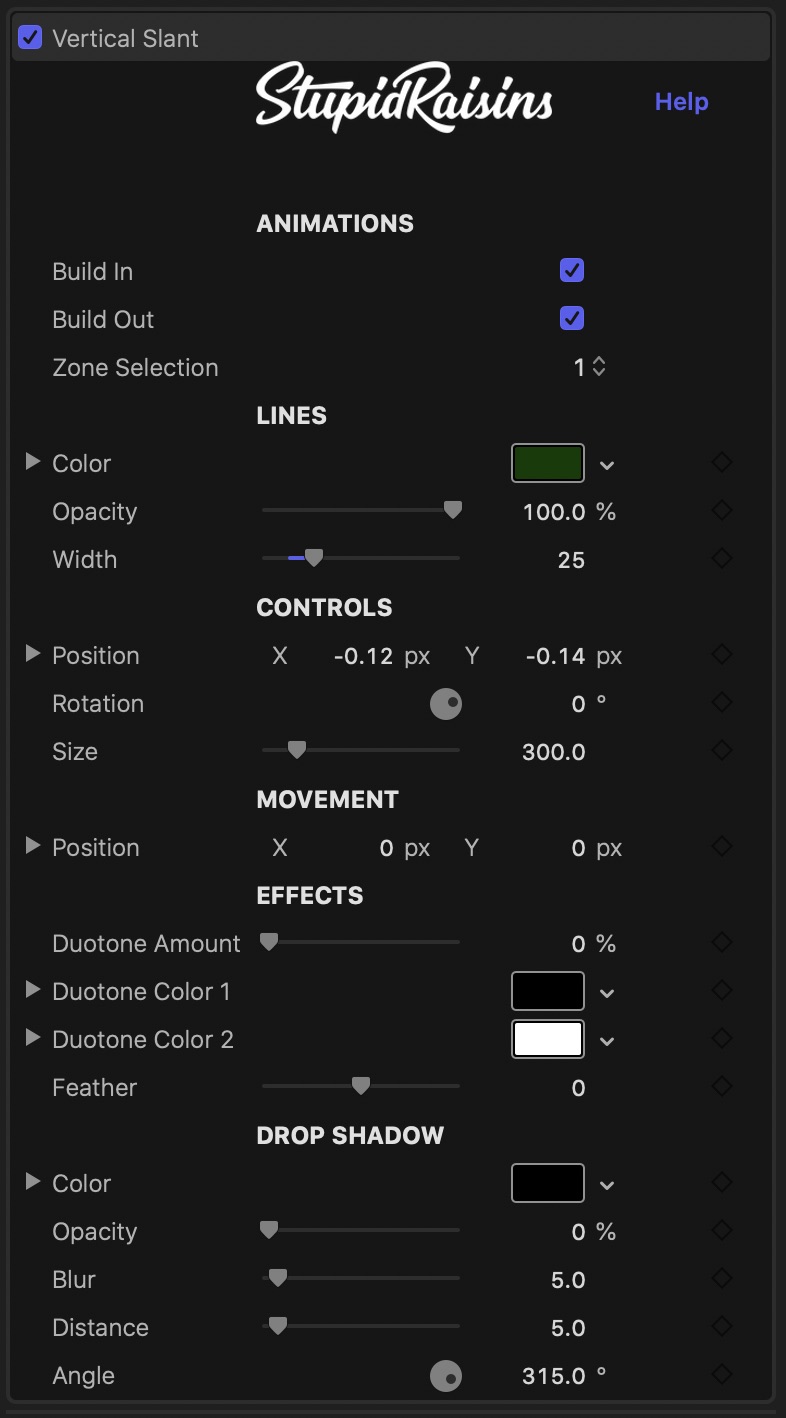 Yes! The demo version is actually the full plugin and all 41 templates can be used in your videos, but they'll come with a watermark.
And don't worry! If you're playing around with one of the splitscreen templates and you decide to buy later, the Stupid Raisins app will automatically remove all of those watermarks, which means you won't lose any work!
Try it Free
User Guide
$59