Create cool and trendy VHS-vibe videos with VHS Pop!
This major throwback plugin is so hot right now, it's a must-have for its 26 drag-and-drop titles, effects and transitions. They're just right for videos that need radical, retro and the old school feels of the 80s and 90s.
VHS Pop is perfect for home movies, weddings, engagements, anniversaries, retrospectives, and other special events that need liberal touches of distinctively sentimental effects.
VHS Pop's authentic VCR vintage look-and-feel elevates your work to a professional level because of the production value it brings; your videos will look so awesomely classic, you'll proudly show them off to your clients!
Feel like breaking out from the usual way of applying retro effects in your projects? VHS Pop is the breakthrough you've been looking for. With VHS Pop as your go-to plug-in, your vintage-inspired videos will look so good people are going to think you led an entire motion graphics team when really it's just you and VHS Pop...genius move!
VHS Pop is incredibly easy to use; you'll be done in 2 efficient steps with time to spare for fun things you've always wanted to do (grow a mullet!) It's also designed to completely fulfill all the throwback touches you need. You'll save so much money and be able to charge more for your amazing and expensive looking results, you'll finally be able to buy that laserdisc player you've been eyeing.
Professionally-done throwback videos with killer production value, get 'em both and more with VHS Pop.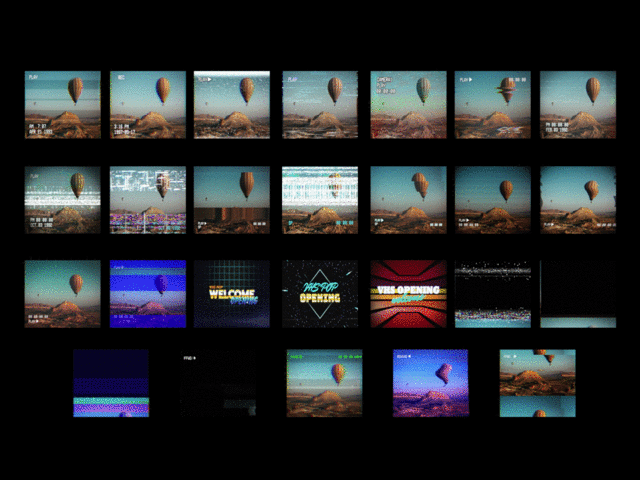 Thinking about making a seismic change in the way you edit throwback videos? Accomplish all this with the amazing imagery and effects, only VHS Pop brings.
Go back in time with VHS Pop's 16 drag and drop effects; 3 fast-forward, rewind, pause/play effects; 3 80s/90s-style opening titles and 4 transitions - all designed by Stupid Raisins to be easy-to-use and quick to customize.
VHS Pop is so close to the genuine, timeless and natural feel of the original VCR and VHS: pause, play, tracking, distortion, static, glitch, twitch and rewind. This plugin will add so much value to your videos for its vintage aesthetic and easy peasy application.
Its professional design and animation will make your clients think you spared no expense in producing excellent VHS effects in your nostalgia-inspired videos.
VHS Pop is designed for 4K UHD, HD, square and vertical videos and automatically adjusts to fit regular, square and vertical videos.
Suddenly, old fashioned is the new editing fashion so be kind, rewind to the good 'ole days with VHS Pop.
For sure!
VHS Pop is chock-full of customizable options from animations to transitions.
VHS Pop lets even the newest Final Cut Pro user create attention-calling VHS effects and slot them perfectly in retro videos. Pop VHS Pop into your VCR and you'll open big with one of its stunning templates - choose from 26 effects, titles and transitions.
From there, you'll be able to fine-tune every aspect of your vintage-looking videos like the fonts, color, image and video, shapes, starting and ending animations, and much, much more.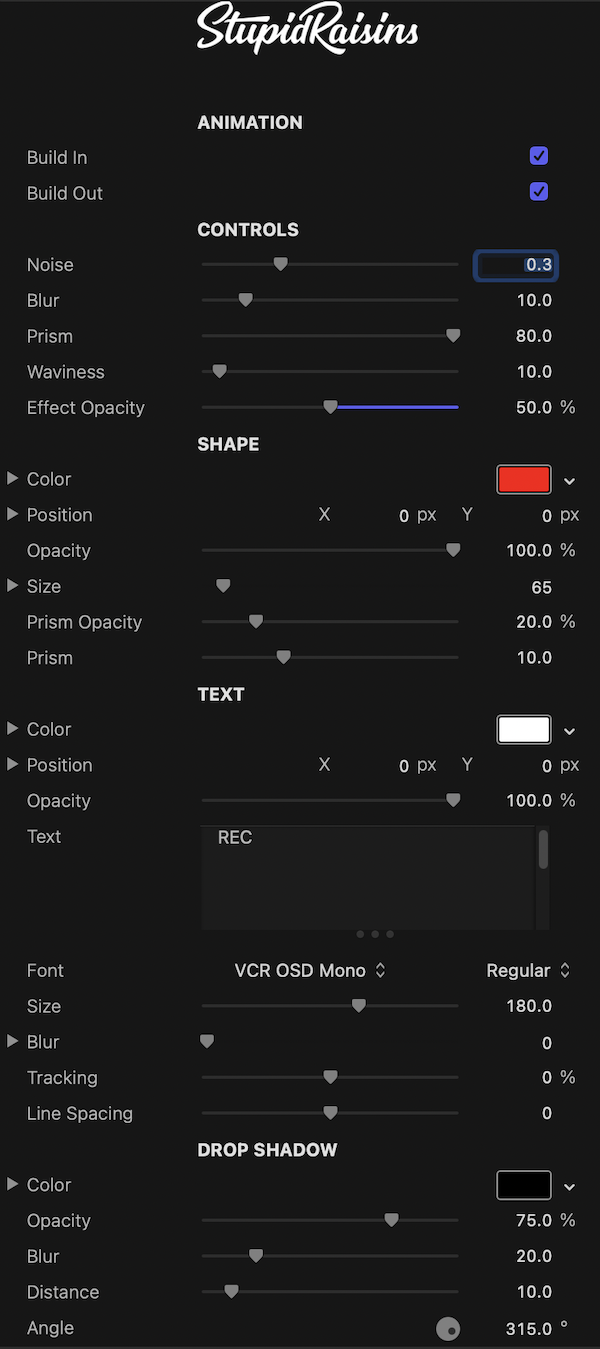 Yes!
The demo version is actually the full plugin and all VHS Pop templates can be used in your nostalgia videos, but they'll come with a watermark.
And don't worry! If you're playing around with one of the templates and you decide to buy later, Stupid Raisins will automatically remove all of those watermarks, which means you won't lose any work!
Try it Free
User Guide
$49