You want to make copycat blockbuster movie titles that look "excellent!" but you're clueless about making them?
"Houston, we have a problem."
Well, with Blockbuster Pop, you don't have to crash and burn.
"Aand we have take-off!"
Make movie magic with Blockbuster Pop's 20 copycat movie titles for Final Cut Pro. You can say "I'm the king of the world!" with Blockbuster Pop's close-to-the-real-thing movie titles.
With Blockbuster Pop, you'll make high-budget titles with low-budget money.
Give your audience something to talk about with lookalike titles from the golden age of cinema to today's mega hits.
Open your movies with Blockbuster Pop's spine-tingling, epic, magical and action-packed titles!
Make movie lovers swoon with Blockbuster Pop Yippee Ki Yay movie titles.
Tickle their funny bone with Blockbuster Pop's unique take of movies that made billions at the box office.
Blockbuster Pop's titles are perfect for spoof videos, home movies, corporate events, school events, personal tributes, birth announcements, engagements, weddings, birthdays, anniversaries and more.
With Blockbuster Pop, you don't have to try hard to make movie titles for your Final Cut videos. Just use Blockbuster Pop's potent list of movie titles to make salty critics give you two thumbs up!
Want the reel deal? Book Blockbuster Pop ftw!

Huff, puff and blow your movie fans away with Blockbuster Pop's unique copycat titles!
Blockbuster Pop offers 20 titles of cinema's biggest hits seen for the first time in Final Cut Pro.
With Blockbuster Pop's easy drag-drop-customization, you'll make fast and furious movie titles like Batman, Star Wars, Dune and more.
Heck, it's so easy to use, you'll find yourself saying, "You had me at hello, Blockbuster Pop."
Blockbuster Pop works in 4K UHD, HD, square and vertical videos.
All Blockbuster Pop templates adjust to fit regular, square and vertical videos.
For sure!
Blockbuster Pop is chock full of customizable options. Use the published controls to change animations, colors, positions, text, backgrounds and so much more.
Blockbuster Pop lets even the newest Final Cut Pro user create lookalike titles that you can use to instantly make movies come to life. With Blockbuster Pop, you'll start with 20 Final Cut Pro legendary cinema titles that fit with the look and feel of your blockbuster-in-the-making. From there, you'll be able to fine-tune every aspect of your director's cut.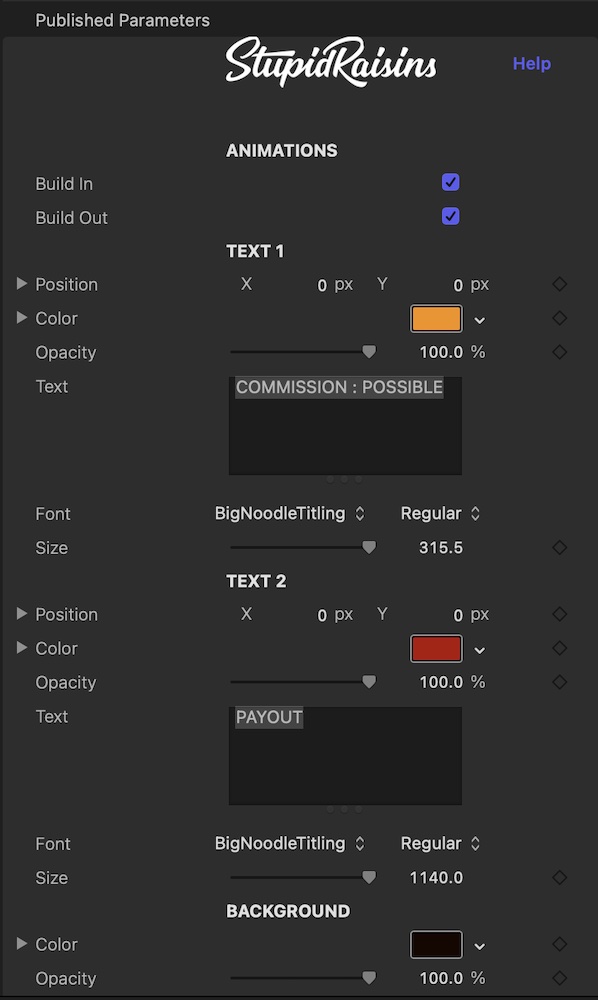 Yes!
The watermark demo version is actually the full plugin for your videos. And don't worry! If you want to buy Blockbuster Pop later, Stupid Raisins will remove those watermarks. You won't lose any work!
Try it Free
User Guide
$49