Collage dropout?
Well, no more, my friends.
Collage Pop is the easiest and smoothest way to add photo mosaics and collages to your videos.
With Collage Pop, you can create flawless photomosaics and picture reveals.
Why reveal a picture or video as a boring slide when you can reveal it with HUNDREDS OF COPIES OF SMALLER PICTURES & VIDEOS?
It's like a gender reveal party in 2020. So many possible colors!
It comes with 10 photographic and video mosaic templates, a custom camera, 3 effects, border controls, 10 styles, and 3 bonus backgrounds - basically a collage of features.
Collage Pop is the Final Cut plugin you need to give your video that extra level of professionality so that you can save time and make money, son!
Collage Pop is designed for 4K UHD, HD, square and vertical videos and lets you create pro videos elegantly!
All Collage Pop templates automatically adjust to fit regular, square and vertical videos.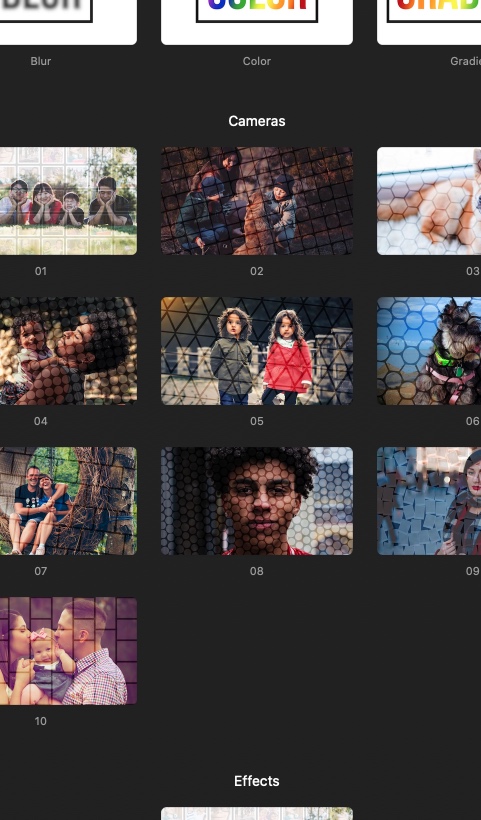 Everyone loves a collage.
But not half as much as people love mosaics.
Mosaic literally means the work of the muses. You know, from Greek mythology? Or Disney's hit animated classic Hercules? Go read a book. (or watch a movie)
Collage Pop is the easiest way to spice up your slideshows and presentations with photo animations in the most professional way.
Make your boss say, "Wow. That's spicy. But completely appropriate for this business setting. You can have my job now."
It's the perfect photo reveal for weddings, birthdays, anniversaries, or other celebrations like your new promotion to boss.
So, if you want to stand out with video work like unto the gods of old, grab Collage Pop today.
For sure! Collage Pop is chock-full of customizable options. Collage Pop lets even the newest Final Cut Pro user create gorgeous photo mosaics in seconds flat.
With Collage Pop, you'll start off on the right foot with one of its stunning templates - choose from 22 mosaic titles and effects title.
From there, you'll be able to fine-tune every aspect of your photomosaic or video mosaic like color, background image and video, mosaic drop zones, custom cameras, particles, flares, shapes, starting and ending animations, and much, much more.

Yes!
The demo version is actually the full plugin and all Collage Pop templates can be used in your videos, but they'll come with a watermark.
And don't worry! If you're playing around with one of the templates and you decide to buy later, Stupid Raisins will automatically remove all of those watermarks, which means you won't lose any work!
Try it Free
User Guide
$49