Get that cutting-edge, original look that makes Neo jealous with Glitch Pop!
Glitch Pop is the "red pill" that opens your eyes to stunning futuristic glitches!
Add Glitch Pop in your Final Cut Pro videos and wreak "havoc" and "trauma" on your videos.
Glitch Pop's mad and twisted titles are the perfect escape from videos that lack crazy vibrancy.
Maximize Glitch Pop's unique glitches to make extraordinary travel videos.
Use it to make impressive and out-of-the-box real estate videos.
Make stylistic and emotionally-provoking music videos with touches of glitch here and there.
Produce thrilling sports videos with Glitch Pop's gritty titles.
Load up on Glitch Pop and get the most image instability and warping in FCP.
It's not an error. It's not a bug. Glitch, please, it's Glitch Pop.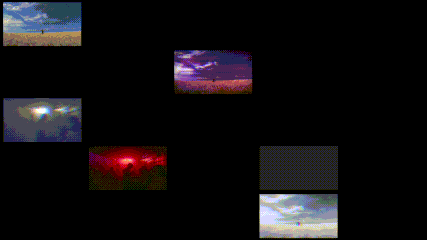 Glitch Pop is a pack of 25 Final Cut Pro templates for glitching, distorting and warping your videos. It's your all-in-one solution for unique titles like you've never seen before.
Seize creative control with Glitch Pop's 5 universal backgrounds for Final Cut videos.
It's simple drag-and-drop-customization quickly warps your videos into shifty perfection!
Embrace your inner Neo with the best glitchy titles of all time for your 4K UHD, HD, square and vertical videos.
All Glitch Pop templates adjust to fit regular, square and vertical videos.
For sure!
Glitch Pop is chock full of customizable options. Use the published controls to change animations, colors, positions, text, backgrounds and so much more. Glitch Pop lets even the newest Final Cut Pro user create glitchy titles for instantly rousing glitch videos.
With Glitch Pop, you'll have 25 Final Cut Pro glitch templates that fit with the look and feel of your distortion videos. From there, you'll be able to fine-tune every aspect of your "into-the-warp-zone" videos.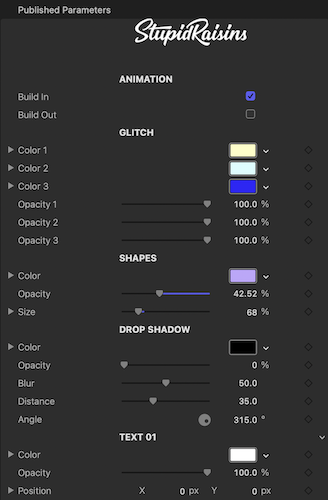 Yes!
The watermark demo version is actually the full plugin. And don't worry! If you want to buy Glitch Pop later, the Stupid Raisins app will remove those watermarks. You won't lose any work!
Try it Free
User Guide
$49