Loop Pop is your looping poster and background dream come true.
It's all the rage. Ever heard of it? Time to get with the times, boyo. Or girlo. Persono?
Wow your audiences with repeating unique and unreal kinetic type and graphics.
It's like sending the words in your video on a spirit journey that travels the galaxy and ends up in wowza-town.
Loop Pop comes with 33 seamless Loop Posters, Backgrounds, Titles and templates, 3 Bonus Backgrounds, and is fully customizable.
Add energy to your videos' messaging. Including Loop Pop in your projects is like adding an ascot to your fashion ensemble—always a good idea.
Stand out from your competition with words and quotes that move. Static type is so yesteryear.
Loop Pop is designed for 4K UHD, HD, square and vertical videos and lets you create pro videos elegantly!
All Loop Pop templates automatically adjust to fit regular, square and vertical videos.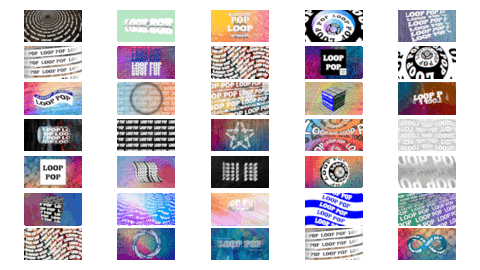 Your Instagram arch-nemesis shares a cute quote and gets a 1,000 likes. No big deal, right?
WRONG.
It's time to destroy her with your cute quote animated by Loop Pop.
Once your followers see "Live. Laugh. Love." come to life with Loop Pop's professional and exciting kinetic graphics, CutiePie89 will have to shut down her IG forever.
Long live 2Cute2Quit91!
Need to open your production in an exciting way?
Boom. Loop Pop.
Need background graphics for a music video or podcast on YouTube?
Boom. Loop Pop.
Need to come up with a killer rule of thirds joke for your list?
Dang. I wish I could use Loop Pop for ad copy.
So, if you want to stand out from the crowd with beautiful, kinetic looping graphics, grab Loop Pop today.
For sure! Loop Pop is chock-full of customizable options. Loop Pop lets even the newest Final Cut Pro user create gorgeous and modern effects in seconds flat.
With Loop Pop, you'll start off on the right foot with one of its 33 stunning templates. In just 3 simple steps you'll create eye-catching repeating titles. From there, you'll be able to fine-tune every aspect of your effect and title like font, font size, colors, shapes, starting and ending animations, and much, much more.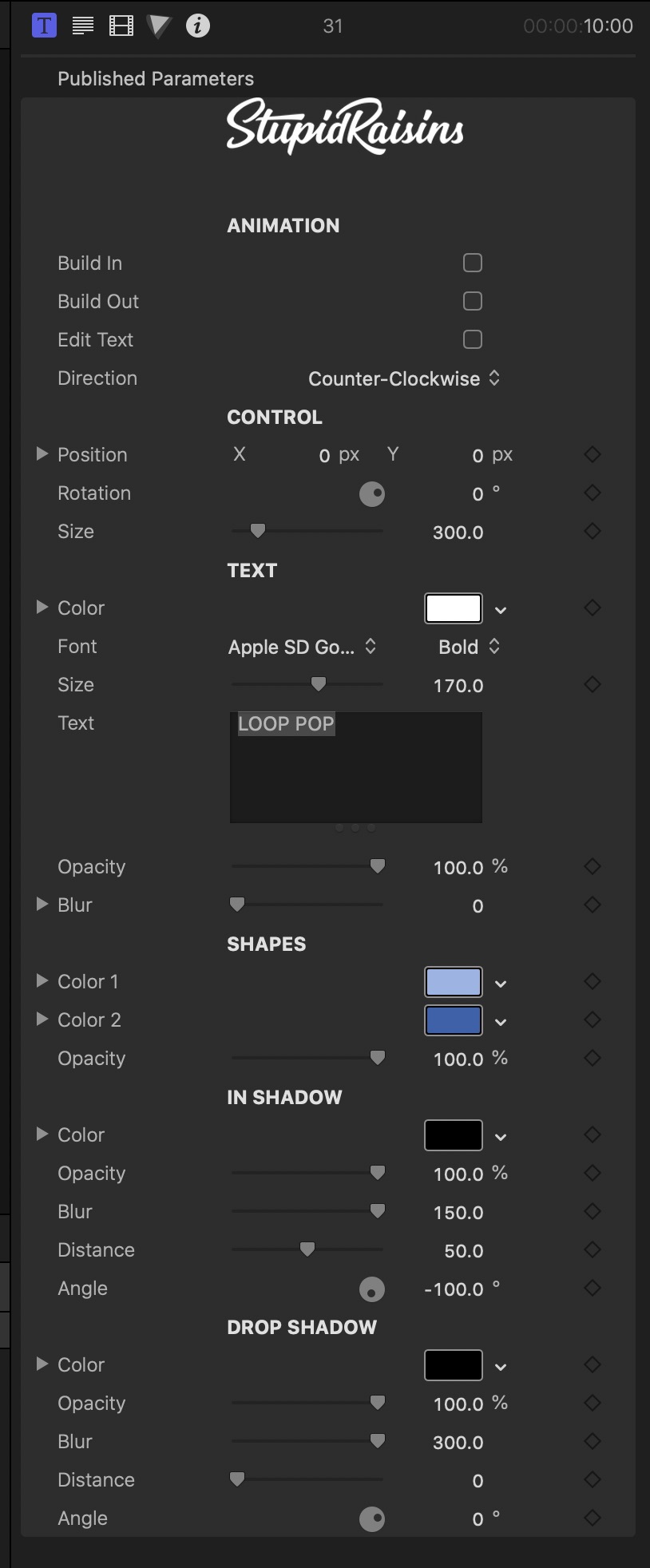 Yes! The demo version is actually the full plugin and all templates can be used in your videos, but they'll come with a watermark.
And don't worry! If you're playing around with one of the templates and you decide to buy later, Stupid Raisins will automatically remove all of those watermarks, which means you won't lose any work!
Try it Free
User Guide
$49