Show off your video, image, text or logo quickly and easily with Show Pop's 20 professionally designed and animated multifunctional revealers.
Show Pop is a pack of 20 Final Cut Pro X titles perfect for unveiling videos, images, text and logos.
Show Pop also comes with 3 bonus backgrounds. Use the Blur background to add a soft touch. The Color background is great for adding a solid color and the Gradient background adds a splash of color.
Show Pop is designed for 4K UHD, HD, square and vertical videos and lets you create pro social media videos so easily!
All Show Pop templates automatically adjust to fit regular, square and vertical videos.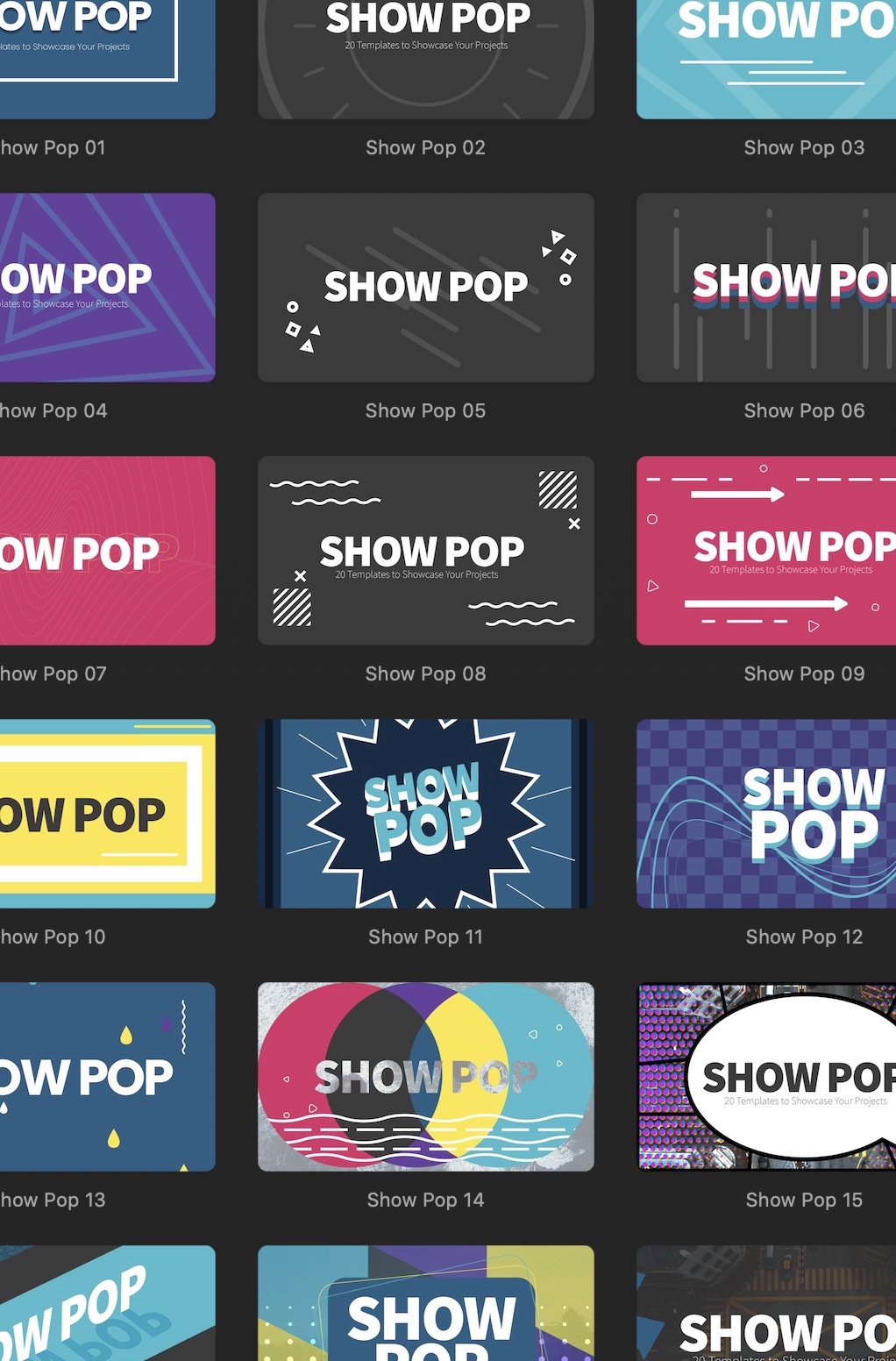 Show Pop has so many uses!
Just think of all the ways you can make your money back.
You can charge to animate typography, reveal logos, display video, unmask photographs and bring graphics to life!
Each of the 20 multi-use templates is great for making openers, mix video and pictures, create transitions, roll your slideshows, unveil epic footage and energize your textual typography!
Show Pop makes your job easier and faster.
Think about it...
In one plugin you can bring your boring videos, images, text and logos to life!
For sure!
Show Pop is chock-full of customizable options.
Show Pop lets even the newest Final Cut Pro user create gorgeous and modern revealing title templates in seconds flat.
With Show Pop, you'll start off on the right foot with one of its stunning templates.
Choose from 20 different universal revealers and 3 free bonus backgrounds.
From there, you'll be able to fine-tune every aspect of your multifunctional revealer like video, image, text, color, font, font size, shapes, starting and ending animations, and much, much more.

Yes!
The demo version is actually the full plugin and all Show Pop effects can be used in your videos, but they'll come with a watermark.
And don't worry!
If you're showing off with one of the revealers and you decide to buy later, Stupid Raisins will automatically remove all of those watermarks, which means you won't lose any work!
Try it Free
User Guide
$49