Social media influencers, cross-promote all your social media accounts with Social Pop!
Social Pop is 25 call-to-action titles for Final Cut Pro perfect for getting your followers hot on your trail!
You can make social media account callouts in Final Cut that match your platform and aesthetic; They'll look like you made these amazing titles yourself!
Social Pop is like flashing neon signs for your online presence.
Get your Instagram followers to become YouTube subscribers.
Convert your Facebook fans into TikTok followers.
Grow your Twitter followers via Snapchat.
It's your bat signal to let your followers, subscribers and fans know where to find you.
Video creators can use Social Pop to push their audience to channels that need a boost in engagement.
It's the essential set of tools made exclusively for growing your subscribers, expanding your reach or even entering the top of the influencers list.
With Social Pop, you reach maximum exposure for all your social media channels. As your reach grows, so does your credibility. You can work with or attract companies looking for legitimate social media influencers with the help of Social Pop.
Every move you make, every step you take, they'll be watching you with Social Pop. Your followers will be hot on your trail with Social Pop's call-to-action titles for Final Cut Pro!
Social Pop's social media templates were designed to work with any social media site.
With Social Pop, you won't just be seen by people, you can get them engaged with call outs that attract major attention.
Social Pop's professionally designed and animated "follow me" titles are perfect for those who know your channel but prefer to see or interact with you on other platforms.
Social Pop has motion-trackable, attention-grabbing titles to generate buzz and drive traffic.
Social Pop's easy drag-drop-customization in Final Cut Pro makes for fast bat signal call-outs.
Social Pop works in 4K UHD, HD, square and vertical videos.
All Social Pop templates adjust to fit regular, square and vertical videos.
For sure!
Social Pop is chock full of customizable options. Use the published controls to change animations, colors, positions, text, backgrounds and so much more.
Social Pop lets even the newest Final Cut Pro user create tags that you can use to immediately drive engagement.
With Social Pop, you'll have 25 Final Cut Pro callouts that fit with the look and feel of your social media accounts.
From there, you'll be able to fine-tune every aspect of your social engagement tool.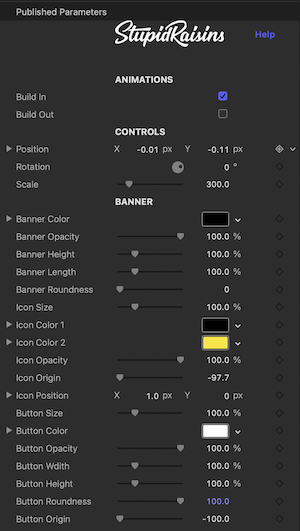 Yes!
The watermark demo version is actually the full plugin for your videos.
And don't worry! If you want to buy Social Pop later, Stupid Raisins will remove those watermarks.
You won't lose any work!
Try it Free
User Guide
$49