Every day is "good vibes" with 100 motion-trackable, customizable, social media inspired Final Cut Pro stickers. Get the video party started with these Instagram, Facebook, Snapchat and TikTok style stickers made exclusively for Final Cut Pro! Meme or nature lover, wanderer or foodie, whatever your interests or mood, Sticker Pop has the perfect sticker for your video.
Sticker Pop quickly relays every feeling you want in your videos: silly, quirky, fun, entertaining, hungry, surprised and so many more. It's the perfect way to spice up your videos, your marketing campaigns and promotions, emo-style.
Whether you're waking up to "good vibes only" or coffee's got you "feelin' good as you should," Sticker Pop let's you show it with panache
Feeling "kinda bummed" for not getting a sticker after voting? (What other reason is there to vote?! Oh yeah, uphold democracy. Yes. But also, STICKERS!)
Been using "Woke up like dis" in your social media posts more often than you care to count? No problem.
Sticker Pop brings a fresh and modern take to your messaging that won't bore your audience with 100 visually appealing animated templates instantly adding supercharged production value to your videos. They'll look so good you'll prolly use Sticker Pop in your videos every chance you get.
Each sticker is professionally made and animated to perfection. Your videos will look like you spent a lot for superior results (irl, less than a dollar per sticker!). Plus, Sticker Pop's so easy to use, it makes smelling strawberry scratch-and-sniff stickers feel like a real chore.
Sticker Pop is more than just a pack of cute stickers. They're an income-generating bunch of thoughtfully designed labels in 10 categories covering places, food, moods, lifestyle and words. These stickers will make your audience feel more deeply and elicit love-filled oohs and aahs from your clients.
Adding Sticker Pop to your list of reliable, indispensable, high-quality and first-rate plugins will do wonders for your time, your cash flow and your work.
Whatever your mood, wherever you are, from day to night, spread the love, light up your socials, let emotions take over your videos and feel all the feels with Sticker Pop.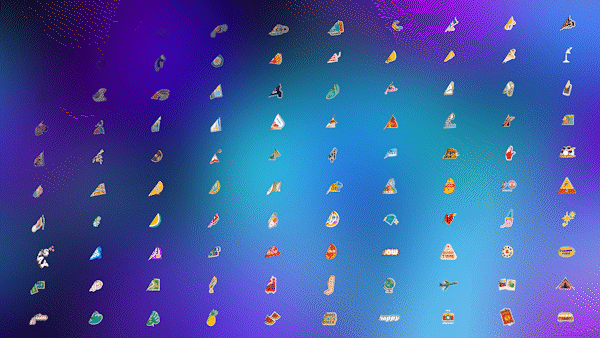 Stickers are not just for lunch boxes, coloring books and toys, they're now creating a huge buzz on social media. It's time to get in on the sticker scene with scene-stealing stickers from Sticker Pop!
Yes, stick 'em to your videos with 100 motion-trackable, animated stickers that you can grow or shrink in size, move around, make pop and slide into your videos.
Sticker Pop offers up to 10 categories covering places, food, moods, lifestyle and words to effectively communicate your message in moving and exciting ways. Use these labels liberally in your cooking demos, interviews, travel videos, and daily vlogs for YouTube, Instagram Stories, TikTok and other social media platforms.
Sticker Pop's emotion-filled templates are a huge help when you can't find the right words to communicate feelings and thoughts instantly. Think about Sticker Pop as the plugin version of Hallmark cards: readily available, goes right to the heart and says exactly what you need to convey.
Sticker Pop's stickers are far beyond just cute; this pack of 100 stickers is so easy to use and customize. Just stick it to any part of your video, motion-track and customize. All done and on your way to the end of the workday to go do something more fun...like, cover your car in stickers!
Sticker Pop is designed for 4K UHD, HD, square and vertical videos and automatically adjusts to fit regular, square and vertical videos.
For sure!
Sticker Pop is chock-full of customizable options from animations to colors.
Sticker Pop lets even the newest Final Cut Pro user create emotion-filled stickers and slot them perfectly in videos. Stick Sticker Pop to any part of your video - choose from 100 motion-trackable animated stickers. From there, you'll be able to fine-tune every aspect of your sticker template like the color, size, position, starting and ending animations, and much, much more.

Yes!
The demo version is actually the full plugin and all Sticker Pop templates can be used in your fun and quirky videos, but they'll come with a watermark.
And don't worry! If you're playing around with one of the templates and you decide to buy later, Stupid Raisins will automatically remove all of those watermarks, which means your work will "stick" around!
Try it Free
User Guide
$49