Walk your talk with 33 up next tabs and talking point bars (+ 3 bonus backgrounds).
Show the past, present, and future with professional graphics found in popular talk, sports and news shows.
Quickly let your audience know what's up next with modern & trendy talk show graphics.
It would take days to create an animated talking point graphics so imagine all the time and money you'll save with Talk Pop's professionally designed and animated modular talking point building blocks.
Talk Pop is designed for 4K UHD, HD, square and vertical videos and lets you create pro videos elegantly!
All Talk Pop templates automatically adjust to fit regular, square and vertical videos.
With Talk Pop on your side, no one will mind when you talk big.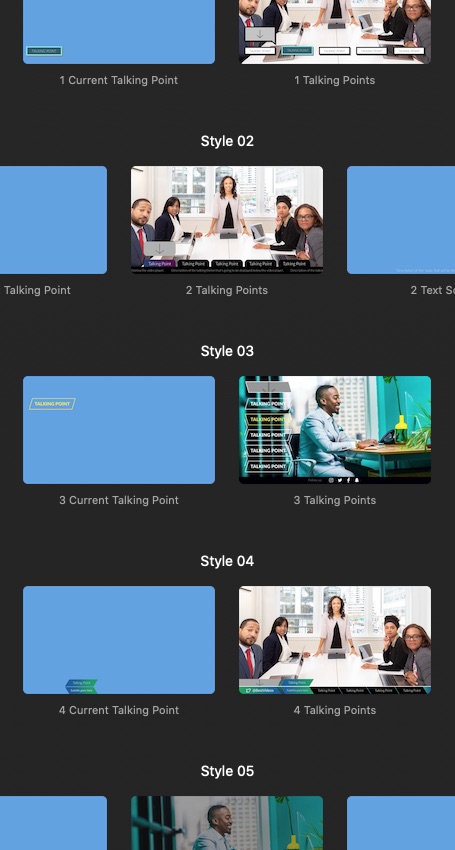 With Talk Pop you can create professional discussion videos by adding up to 5 talking points.
You can also display more information with 6 scrolling text titles and choose talking points from 13 different styles from modern to news to high tech with 4 built in animations making it a cinch to transition between talking points.
Increase the performance of your social media posts, impress your competition and wow your audiences with high quality and eye-catching brand visuals.
Talk Pop is great for creating expert looking titles, slideshows, presentations, podcasts, news, talk shows, sports videos, tech videos and review videos.
You betcha!
Talk Pop comes with 33 fresh and easy to use templates that bring your video to life through modern graphic styles and designs. You can choose from 13 different categories to create a promotional video or business video.
Talk Pop is modular by design making it a piece of cake for you to build a pro information display and even easier to transition between talking points.
Changing text, colors and timing is as easy as eating a raisin free chocolate chip cookie!

You bet it does!
You can try out all of Talk Pop's easily customizable templates as well as the other features. The free demo does have a watermark but still allows you to experience the full effects of Talk Pop free of cost.
And don't worry! If you're playing around with one of the titles and you decide to buy later, Stupid Raisins will automatically remove all of those watermarks, which means you won't lose any work!
Try it Free
User Guide
$59