It's a tracking powerhouse when Final Cut Pro's motion-tracker meets Track Pop! Together, they're the perfect tracking tool for anything in your videos.
Get eyes following your every move in sports or athletic videos.
Identify even the smallest interview detail.
Highlight moving objects in the sky, at sea or on the ground.
Point out crucial details in your play-by-play videos, cooking demos and real estate videos.
Eradicate dead spaces in instructional, technical or analytical videos.
Skip the arduous task of complicated tracking, get on the right track with Track Pop.

Track Pop is a pack of 20 motion-trackable templates that work with Final Cut Pro's built-in tracker.
Track Pop quickly points out and highlights parts of your video with pro-looking motion graphics.
Its high level of animation and modern and simple styles make tracking pure bliss and complement the visuals in your edits.
You'll never lose track of time with quick and easy drag-drop-customization.
Upgrade your edits with Track Pop's callouts, pointers, shapes and texts.
Track Pop's pro-looking motion graphics are automatic fit for 4K UHD, HD, square and vertical videos.
For sure!
Track Pop is chock full of customizable options. Use the published controls to change animations, colors, positions, text, backgrounds and so much more.
Track Pop lets even the newest Final Cut Pro user create tracking templates that grab attention and keep it there.
With Track Pop, you'll have 20 Final Cut Pro motion-trackable templates.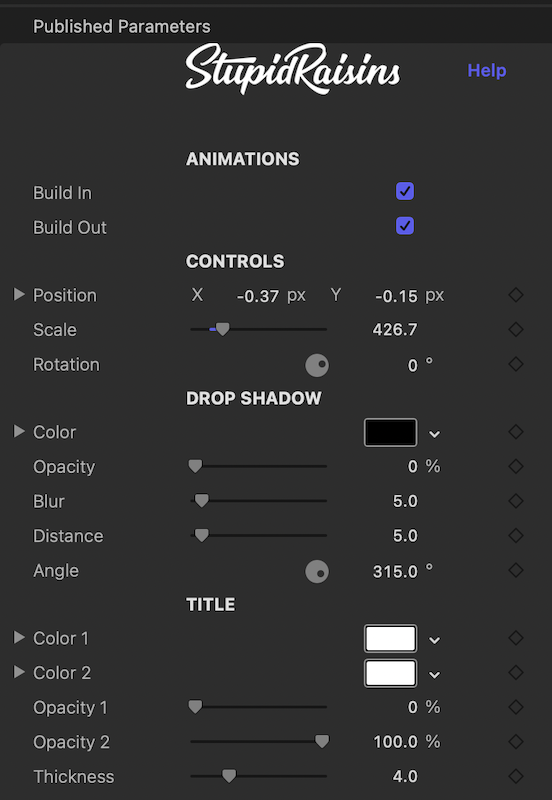 Yes!
The watermark demo version is actually the full plugin. And don't worry! If you want to buy Track Pop later, the Stupid Raisins app will remove those watermarks. You won't lose any work!
Try it Free
User Guide
$49