Edit less, travel more! Take your audience on the trip of a lifetime with Travel Pop; a suitcase full of Final Cut Pro journey-themed titles, scenes, transitions, icons, overlays and lower thirds.
Travel Pop will do the heavy lifting for you with its 25 unique travel-inspired templates. Unpack this plugin and see how it instantly jazzes up even the most basic footage so your audience can join you on your journeys and take in all the sights and sounds of your globe-trotting adventures.
FOMO? If you find yourself spending more time worrying about how long it'll take to edit a 3-minute vacation video rather than island-hopping or sipping Mai Tai cocktails by the beach, you're totally missing out! With Travel Pop, you can finally leave behind the old way of custom-designing your own maps, routes and other time-sucking travel-related visuals and get back to that Mai Tai. Now that 3-minute video you've been dreading is a tropical breeze! All Travel Pop templates are designed, animated and tested for ease of use; dramatically reducing complex and time-consuming edits.
There simply is no room for epic fails but only epic films when using Travel Pop. No matter where you are in your travel vlogging stage: noob or experienced, feeling camera shy, messing up shots, wanting to cover edit points when filming doesn't go exactly as planned or struggling to inject personality into your videos, your efforts won't be a waste of precious time and energy with Travel Pop. You can rely on each journey-themed title, scene, transition, icon, overlay and lower third for creating cinematically inspired, energetic and beautiful videos of your expeditions that people are gonna love watching.
Travel Pop keeps your audience glued to the screen with cool themes to open and end your travel videos when you have so many travel clips and footage to show. Weave a great story and make your audience feel as if they are right there by your side.
Traveling can be expensive. Luckily, Travel Pop's templates are less than a dollar each; leaving you plenty of money for your trip!
Time to depart from spending hours editing travel videos. The shortcut you need to create compelling, immersive and engaging travel videos is Travel Pop! Bon Voyage!

Give yourself the gift of Travel Pop so you can edit less & travel more.
Travel Pop is your passport to a whole new world of travel videos with journey-themed titles, scenes, transitions, icons, overlays and lower thirds.
Navigate from location to location. Discover special destinations. Eat, pray, love your way to exciting and exotic places and capture them all on video with full confidence. Travel Pop is at your fingertips, ready to create, describe, show off and enrich all your travel videos in the best way possible.
Unpack Travel Pop's essential effects for all your travel-related vlogging, shows, videos, short films, documentaries, vacations, and action-packed or laid-back holidays.
All Travel Pop 25 wanderlust templates are designed for 4K UHD, HD, square and vertical videos and automatically adjust to fit regular, square and vertical videos.
It's never too late to switch up your travel videos with this single piece of plugin to match the amazing beauty of your travel destinations. Hop on to Travel Pop and create great moments and experiences that are a feast for the eyes!
For Sure!
Travel Pop has customizable options to make each travel scene your own.
Travel Pop lets even the newest Final Cut Pro user create professional templates and slot them perfectly in between clips. Video editors like you can easily change scenes, text, colors, animation direction and adjust the speed of titles and transitions. Every wanderlust template you need and much, much more in one plugin.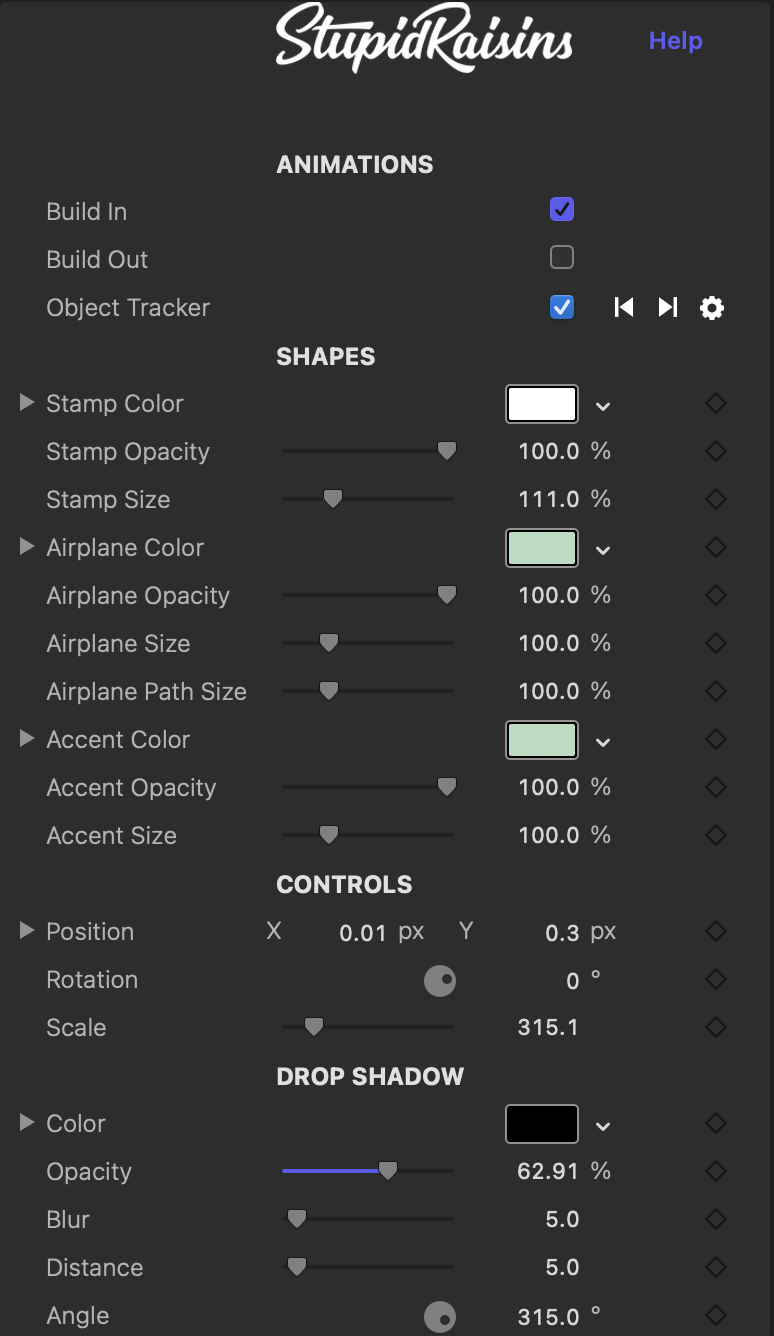 Yes!
The demo version is actually the full plugin and all Travel Pop templates can be used in your globe-trotting videos, but they'll come with a watermark. And don't worry! If you're playing around with one of the templates and you decide to buy later, Stupid Raisins will automatically remove all of those watermarks, which means you won't lose any work!
Try it Free
User Guide
$49