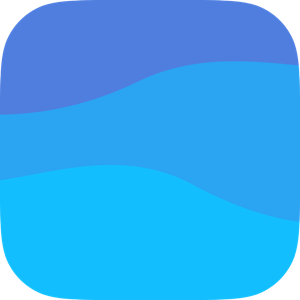 Come in. The water's fine!
Water Pop is 64💧water-inspired titles, logo animations and transitions for Final Cut Pro X guaranteed to get your video juices flowing.
Water Pop is designed for 4K UHD, HD, square and vertical videos and lets you create mouth-watering motion graphics faster than greased lightning!
All Water Pop templates automatically adjust to fit regular, square and vertical videos.
General Workflow
Here's your game plan for using Water Pop. Trust me, it's really easy!
Drag and drop your title, logo animation or transition onto your timeline.
Use the published parameters to customize the look of your title, logo animation or transition.
Published Parameters
Each template comes with published parameters that make it easy for you to customize your titles and transitions. The Published Parameters are under the Title and Transition Inspectors. The titles and animated logos have many published parameters in common and a few uncommon. But don't worry, they're really easy to use. The following parameters are the same for titles and logo animations. The published parameters for the just titles, just animated logos and transitions can be found further down the page.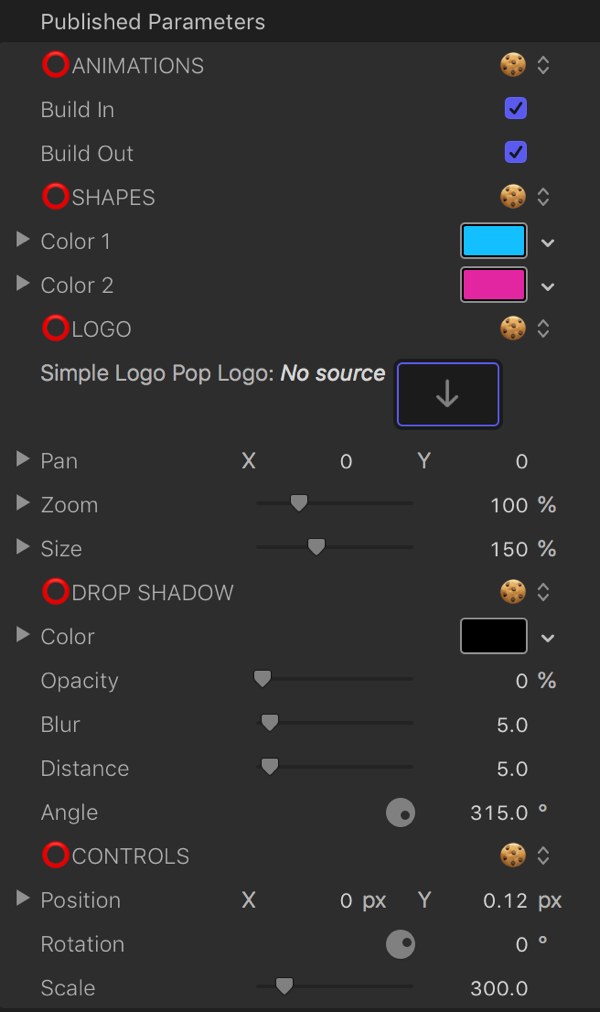 ANIMATIONS
Use these checkboxes to turn the start and end animations on and off.
SHAPES
These parameters control how the animated titles and logos look. You can change color, size, opacity and more depending on the template.
CONTROLS & ON-SCREEN CONTROLS
You can adjust the position, size and rotation of your title or animated logo using the On-Screen Controls or fine tune with the published parameters.
On-Screen Controls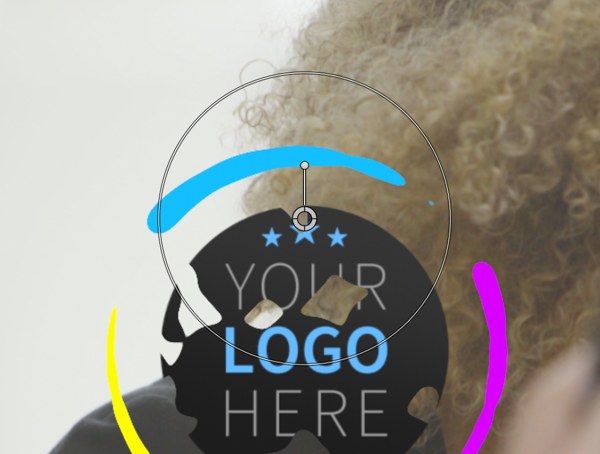 The on-screen controls allow for easy tuning to create the perfect title or logo animation.
Controls


Position
Used to change where the title or logo is located.
Rotation
Used to rotate the title or logo.
Scale
A slider that lets you change the size of the title or logo.
Drop Shadow
You can add a drop shadow to your title or logo to help separate it from the background.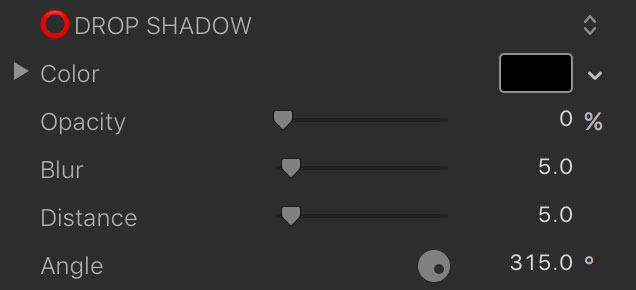 Color
A color picker to change the drop shadow color.
Opacity
Brings up a slider to change the drop shadow opacity.
Blur
Opens a slider to blur or sharpen the drop shadow.
Distance
Provides another handy slider, this one to change the drop shadow distance.
Angle
Used to change the drop shadow angle.
LOGO
These controls are only in the animated logo templates and allow you to fine tune your custom logo.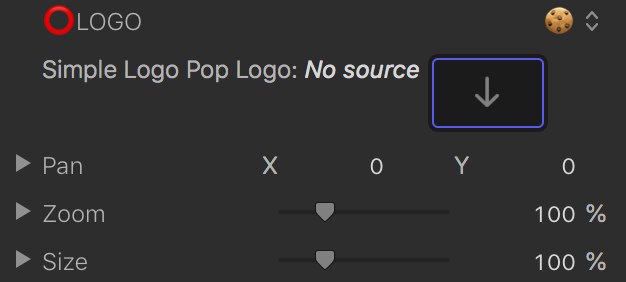 Image Well
Use this to select your logo. Click on the image well, select your logo and click Apply.
Pan
Use this to move your logo around within the drop zone image well.
Zoom
Use this to zoom your logo in and out.
Size
Use this to change the size of your logo.
TRANSITIONS
Transitions come with color pickers to customize the colors of your transition.