Phones, tablets and laptops are everywhere and part of our daily lives.
You need a quick and easy way to add professional device themed titles to your videos.
You need something fast, customizable, looks pro and is easy to use.
Device Pop let's you show off your apps and videos with 20 stylish smartphone, laptop and smart device themed templates + 3 bonus backgrounds.
These professionally designed and animated templates include phones, iPhones, MacBooks, iMacs, Alexa, Apple TV, iPads, smartwatches, Apple Watches, laptops, tablets and much more.
Quickly and easily add your own images or videos to the device screen.
Device Pop is designed for 4K UHD, HD, square and vertical videos and lets you create striking videos elegantly!
All Device Pop templates automatically adjust to fit regular, square and vertical videos.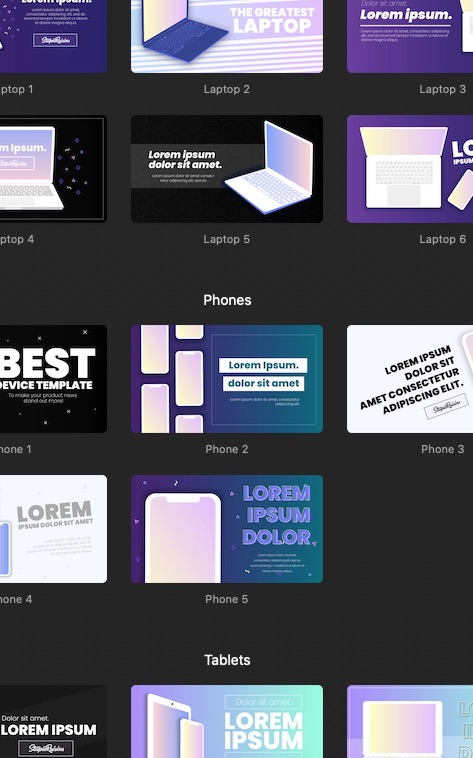 Device Pop is perfect for creating commercials, app previews, image and video showcases, slideshows, presentations, podcasts, news shows, sports shows, tech shows and review shows.
You can use Device Pop to promote a sale or highlight a special deal.
Device Pop's templates can be used in a variety of video types from business, product, commercials, documentaries, website, travel, sports, wedding, cooking, real estate, music videos and just about anything else!
For sure! Device Pop is chock-full of customizable options. Device Pop lets even the newest Final Cut Pro user create gorgeous and modern titles in seconds flat.
With Device Pop, you'll start off on the right foot with one of its 20 stunning templates - choose from 20 different titles and 3 backgrounds. From there, you'll be able to fine-tune every aspect of your title like phone color, font, font size, colors, shapes, starting and ending animations, and much, much more.

Yes! The demo version is actually the full plugin and all 20 templates can be used in your videos, but they'll come with a watermark.
And don't worry! If you're playing around with one of the templates and you decide to buy later, Stupid Raisins will automatically remove all of those watermarks, which means you won't lose any work!
Try it Free
User Guide
$49